Cyfrowy Polsat is open to working with people who have just entered the job market. We appreciate the enthusiasm, commitment and innovative ideas that young people contribute to our organisation. Each year we organise the 'Summer Intern Scheme' and an internship programme called 'Digital Career', both addressed to students and graduates.
These programmes are a perfect opportunity to get to know each other. We verify your qualifications and you become familiar with our working environment. But most of all, you get an opportunity to gain invaluable professional experience and apply your knowledge in practice. By working alongside professionals, you can learn from experts in their fields.
Internships and job placements give you a perfect opportunity to start your career with Cyfrowy Polsat. Many interns taking part in the programme have joined our team as employees.
The intern scheme in the eyes of its participant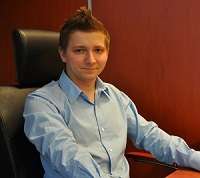 Tomasz Gutkowski,
currently Junior Specialist at the Internet Solutions Section


How did you hear about the internship scheme at Cyfrowy Polsat and what prompted your decision to join in?
I heard about the 'Summer Intern Scheme' at Cyfrowy Polsat at a career expo for engineers organised at the Warsaw University of Technology. I decided to enter the recruitment process for internship as a Java Software Developer. Soon after the interview my application was accepted and I joined the team in the IT Division.
What made me enter the summer internship scheme? There were a few reasons, but the main one was the opportunity to gain professional experience at a rapidly growing business and one of the most recognised brands in the media industry. Equally important was the position itself. Since I began my studies (Information Technology at the Warsaw University of Technology) I've wanted my future career to be based on Java software development. I knew that an internship at Cyfrowy Polsat would be a big step towards achieving that goal.
What are the benefits of taking an internship with Cyfrowy Polsat?
First of all, you gain professional experience, test your skills and learn new ones, gain first-hand knowledge of the profession and workplace, as well as learn about the expectations of your potential employer.
In practice, in my case the onboarding process was that at the first stage my counsellor and team colleagues helped me learn the technologies used in the Internet Solutions Section. Then, I was gradually introduced to real-life projects executed by the Section at the time. This gave me an opportunity to develop some applications that were then actually used in production systems. As a result, my Java programming skills improved to such an extent that I was able to take up a permanent job as a Java software developer. During the internship I also learned how to work in a large team as project execution required being in sync and effective communication between all team members. That's why I believe that the internship at Cyfrowy Polsat gave me exactly what I needed − it prepared me to work in the position that I actually filled after I completed the internship.
My commitment to the tasks performed during the internship secured me a longer cooperation with Cyfrowy Polsat. As soon as I completed the internship programme, I was offered the position of Junior Specialist – Java Software Developer. At present, I am developing web applications using various technologies I learned during the internship and my later work. The effect of my work can be seen, for instance, on www.cyfrowypolsat.pl (at the on-line Customer Service Centre) and in other applications used by individual divisions of the Company. I treat each project as a new challenge and I always learn something new.
Last updated 04/08/2015