Polsat Plus Group and ZE PAK Group have constructed and launched the first in Silesia, and the second in Poland, public hydrogen refueling station serving cars and buses. The station will be to refuel, among others, 20 hydrogen-powered NesoBus city buses  produced by Polsat Plus Group and ZE PAK Group which have already started serving passengers in Rybnik. The town is one of the leaders of green energy transformation in Poland, with the buses and refueling station being one of the main elements of the emerging Rybnik Hydrogen District.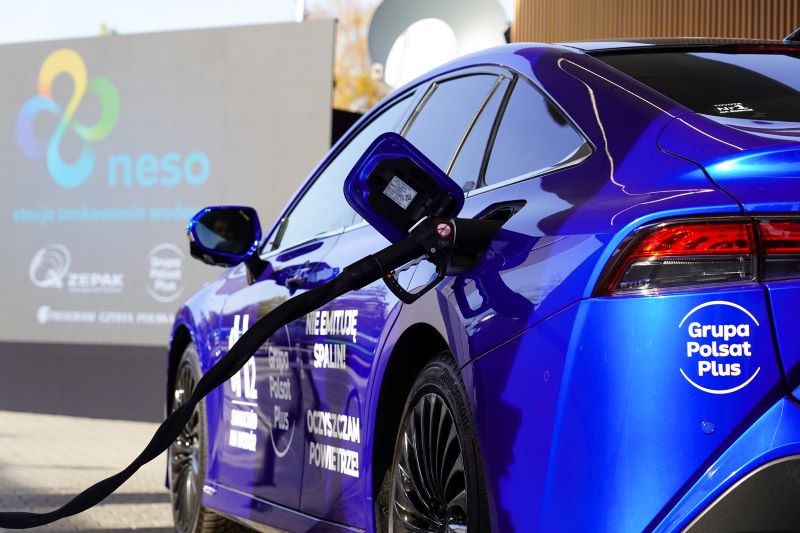 Polsat Plus Group's and ZE PAK's chain of hydrogen refueling stations is being developed under NESO brand. The name is the acronym of the Polish slogan: "Nie Emituję Spalin, Oczyszczam," which means "Emits No Exhaust Fumes and Purifies the Air." NESO stations are currently among the most advanced hydrogen refueling stations in Europe. The stations can be used by Rybnik municipal transport buses as well as by all users of hydrogen-powered vehicles.
"Transformation of Rybnik Coal Area into Rybnik Hydrogen District is slowly becoming a fact," says Piotr Kuczera, the President of Rybnik.  "We have the ambition of becoming a modern technology hub which relies on sustainable and efficient sources of green energy. The project – the second in Poland (following Warsaw) generally-accessible hydrogen refueling station – is one of the elements of Rybnik's transformation, that is of the process of migration to clean energy sources," adds the President of Rybnik.
"The hydrogen refueling station in Rybnik is our second station in Poland that is being launched in a matter of a few weeks. Rybnik is a perfect example of how a city, which was once the leader of pollution rankings, has transformed in a short time into a leader of green transformation among Polish cities. It is a merit of the people ruling the city and it is their efforts that deserve recognition of people from other parts of Poland, and above all of the inhabitants of Rybnik itself. We are glad that the first hydrogen refueling station in Silesia is being opened in Rybnik. It will offer refueling for, among others, NesoBus hydrogen buses which are produced by our factory in Swidnik," says Maciej Stec, the Vice-President for Strategy at Polsat Plus Group and a member of the Supervisory Board of ZE PAK Group.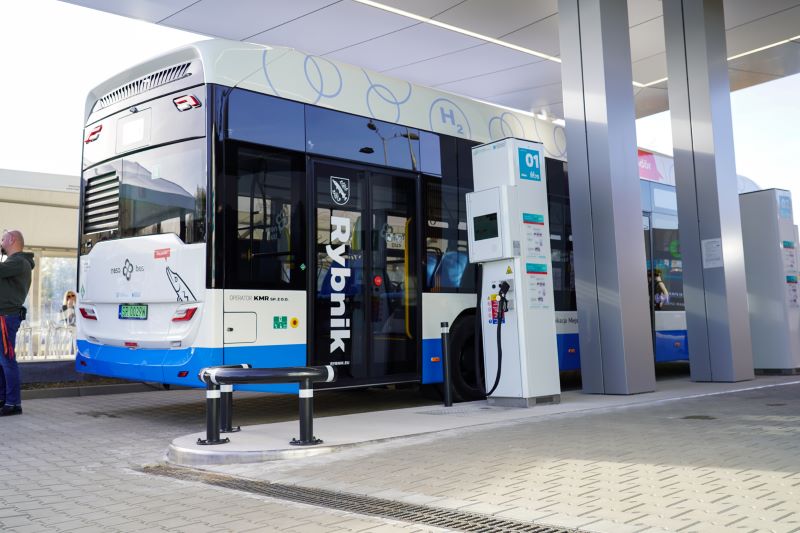 Green hydrogen is a clean, zero-emission fuel. Hydrogen-powered cars and buses emit distilled vapor from their exhaust pipes. Hydrogen cars and buses are already in mass production.
The hydrogen refueling station in Rybnik, which has been built by Polsat Plus Group and ZE PAK Group, is the first generally-accessible station of this type in Silesia, and the second one in Poland. It enables refueling of both, passenger cars and buses. Refueling process is almost the same as at a gasoline station. A car can be fully refueled in a matter of minutes, while in the case of buses the process takes less than a quarter of an hour. Hydrogen-powered cars are now generally available which can drive more than 600 kilometers on one tank.
The refueling process is exactly the same as at a traditional gas station – you take the gas pump nozzle from the pump, place it in a car's or a bus's fuel intake, press the button and the refueling starts.
It is a self-service station. The gas pump nozzle providing 700 bar pressure is designed for refueling of passenger cars, while the one providing 350 bar – for buses. Hydrogen is transported to the station using hydrogen tank trucks which can carry as much as 1000 kg of H2 at a time.
The green hydrogen-powered buses and cars emit no exhaust fumes while additionally purifying the air. They emit no harmful substances – apart from CO2 such harmful substances mainly include nitrogen oxides or particulates, especially the PM 2.5 particulate matter.
NESO station owned by Polsat Plus Group and ZE PAK Group is to a great extent self-sufficient in terms of power supply. The solar panels, providing 19 kW of power, supply electricity to the station while energy storage, with the capacity of 60 kWh, can store surplus electricity.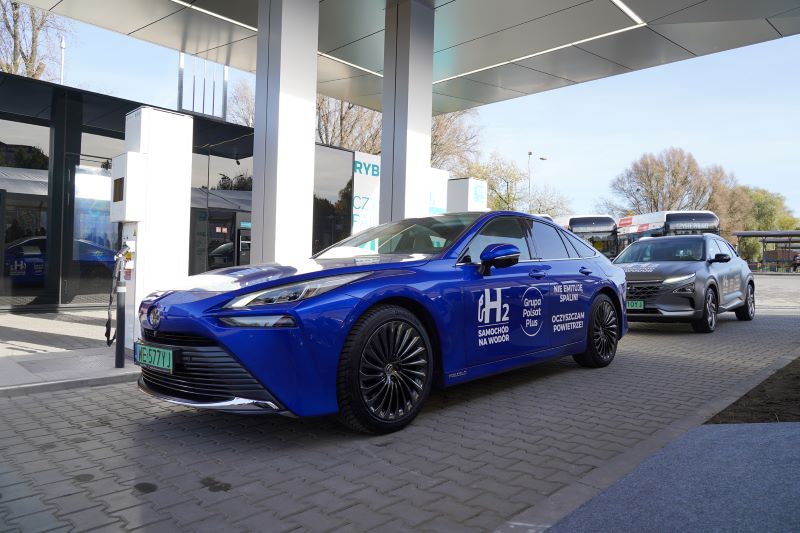 Last updated 10/31/2023